Licensed Public Adjusters Vs Unlicensed Public Adjusters
Damages to your home whether it be fire, flood, natural disaster or any other type of disaster can be one of the most nerve-racking and traumatic experiences anyone can experience. What's an even more horrifying experience is getting an unlicensed adjuster who's only goal is to take advantage of you in this time of need. Unlicensed Public Adjusters are persons who have not passed the test or background check to become a Public Adjuster but yet engage in the business of Adjusting losses. These can range from criminals to contractors and more.
The Illinois Public Adjuster Act 215 ILCS 5/1501 defines Public Adjuster as

"Public adjuster" meansany person who, for compensation or any other thing of value on behalf of the insured:

(i) Acts or aids, solely in relation to first party claims arising under insurance contracts that insure the real or personal property of the insured, on behalf of an insured in adjusting a claim for loss or damage covered by an insurance contract;

(ii) Advertises for employment as a public adjuster of insurance claims or solicits business or represents himself or herself to the public as a public adjusterof first party insurance claims for losses or damages arising out of policies of insurance that insure real or personal property; or

(iii) Directly or indirectly solicits business, investigates or adjusts losses, or advises an insured about first party claims for losses or damages arising out of policies of insurance that insure real or personal property for another person engaged in the business of adjusting losses or damages covered by an insurance policy for the insured.
Hiring the right Public Adjuster to manage the fire loss, negotiate the claims, take care of you and your family's needs during a catastrophe, is important and here we will discuss the difference between hiring a licensed vs unlicensed public adjuster.
There are a lot of things to consider when choosing an adjuster and many questions to ask to now if the adjuster is trustworthy, efficient and over all reliable.
Firstly, it's important to hire a licensed public adjuster because these are the people who represent you, the insured. It's the same thing as going to the hospital for a life-threatening injury wouldn't you want to make sure the doctor who is treating you is a certified doctor and not some random individual who doesn't know anything about medicine? Or how about hiring an attorney to represent you in court? Well it's the same thing; a licensed public adjuster is certified and has to abide by their certifications, which means that any foul behavior can have his/her certification revoked, which means that they take their job seriously.
You have to ask yourself, why isn't the person who you are hiring to handle your claims licensed? Usually the main reasons for this are, they weren't competent enough to pass the state exam and then there's the question of is the individual a criminal? These are important questions to ask yourself.
Let's start with the former. If the person can't pass the exam, which makes them a licensed public adjuster, why would you want them to represent you and your family in such a pivotal time?
Then there's the case of the person having a criminal record. Imagine this, you and your family are probably out of a home due to a fire, flood or some other disaster. You are considering someone to take care of your business that is unknown to you not licensed and unknown to you a criminal. Would you want to give this person personal information like your social security number and other important information? Would you want this person in your home with your belongings?  Importantly would you want their name on you insurance check and in possession of your insurance check with the possibility of skipping town?  The answer is clearly NO.
A very prominent red flag also is when the owner of the public adjustment company is not disclosed on the website. This is usually a clear sign that the owner of the company is not a licensed public adjuster. This is usually a sign that the real owner has a criminal background and/or is hiding that he is and cannot pass the exam. Some of these owners use their office staff or some straw person to claim they are the owner.  Ask to speak to the owner, ask if they started the company, how they started it, when, have they owned other companies they closed. Ask if they have ever been investigated by the Illinois Department of Insurance.  Ask the competition. They usually have a great knowledge of what actually has occurred in the business.
Another key factor in hiring a licensed public adjuster is the payment structure. If your adjuster wants you to pay for the adjustment upfront then this is a big red flag that the adjuster is not licensed. There is no need to pay your public adjuster upfront but there is an agreed percentage of the insurance company's settlement that is charged after.
Another form of an unlicensed Public Adjuster is the contractor who claims he can negotiate and settle your building claim. This is simply not true.  The Public Adjuster Act of Illinois specifically states, in non-legal terms any person who estimates the damages and negotiates those with the insurance company is acting as a Public Adjuster and must be licensed. The actual Illinois Public adjusters act can be found here in the Public Adjuster Act of Illinois 215 ILCS 5/1501.
"Adjusting a claim for loss or damage covered by an insurance contract," means negotiating values, damages, or depreciation or applying the loss circumstances to insurance policy provisions."   215 ILCS 5/1510
Another sign unlicensed persons out at night.  Are there Illegal hours for public adjusters to work? Yes, there are illegal hours for when public adjusters are able to work. Public adjusters cannot solicit you between the hours of 7:00 PM and 8:00 AM. If your public adjuster wants to conduct business between these hours he/she is more than likely unlicensed.
Be careful on who you trust to do your board up.  There are good and there are bad.  Public Adjusting companies usually have some type of relationship with board up companies.   Public Adjusters must disclose if they have a financial interest in them. Be cautious when a board up company worker recommends a Public Adjuster. More about that at a later date.
A licensed public adjuster is able to legally represent an insurance policy holder during a property claims process. An unlicensed public adjuster is simply not qualified, is not licensed, is not certified and is not to be trusted.
Trained and certified public adjusters can quickly assess mistakes in the claims process and are able to renegotiate the terms of the settlement. They understand the time limits, the paper work and so much more.
One of the major consequences of using unlicensed public adjusters to assess your damages is that, these unlicensed individuals usually fail to understand time issues, appraisal issues, properly estimate a loss, and understands what is covered.  In fact they can make the mistake of overestimating the cost of damages.  Over estimating can cause several issues. It conveys to the insured an unrealistic expectation. An expectation that ends up in a lawsuit, costs for legal fees and complete frustration, aggravation and delays in repairs.  These are only a few examples. 
Get The Harris Advantage Today
At Harris Claims Services, we are a full-service Illinois licensed public adjusting firm. We are also known as one of Chicago's top general contractor of insurance losses specializing in Fire Repairs. We have over 40 years of experience. We are the experts, public adjusters, estimators, and contractors to turn to for insurance claims adjusting, insurance claims preparation, settlements and repairs. We specialize in matters of fire, flood and wind damage but we handle all insurance claims. The Harris Advantage is a two-phase process.
Phase 1, is the claims adjustment phase and phase 2, is the repair and restoration phase.
We're an end-to-end licensed public adjustment company, which means we can handle the entire insurance claims and repair process from beginning to end. This includes:
Attorneys – they work for our fire and review insurance policies constantly.
Board-up company – will provide 24-hour emergency board-up and other temporary services to secure your property.
Public adjusters – will prepare and negotiate a complete estimate – detailed claims package to your insurance carrier. We negotiate and maximize the claims.
General contractors – will repair and restore your home after fire or flood or disaster.
Housing company – can help you with temporary housing and get you settled while the process is ongoing.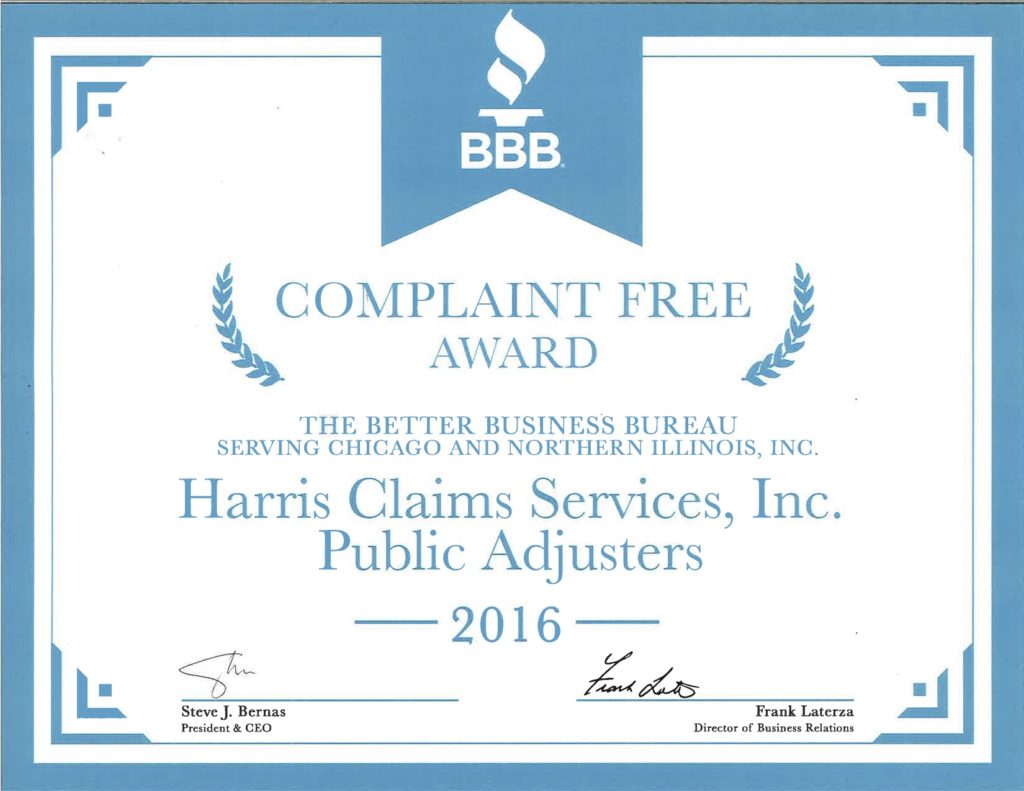 Who Are We and What We're Known For
Better Business Bureau A+ accredited member with years of awards for being complaint free!
We are licensed in the state of Illinois, both our company Harris Claims Services and the owner Jason Harris. Call us. The owner, Jason Harris will speak directly with you. We will provide you with copies of our licenses. We keep them on record and proudly display them.
#1 in computerized, room-by-room construction analysis of repair
#1 policy review by our on staff attorneys to maximize settlements
Decades of service under our same name
Family owned and operated for two-generations. Ron Harris and Jason Harris.
Experts in finance, business, law, estimations and construction
Attorneys on staff. Jason Harris is an Attorney and is constantly reviewing insurance policies.
We produce the largest settlements in the industry
All repair work is performed to industry standard fire repair practices as well as water repair practice
We guarantee repairs done on time
Longest warranty
Don't be fooled by companies whose owners are not licensed. Don't be fooled by chasers claiming to be licensed. Call us get the real facts and knowledge.
Our past clients have stated, "talking with your company compared to the competition is like night and day, you guys have so much more information and knowledge"
Call us and see the difference for yourself. Remember we are here for you, in your time of need at 847-329-8444 any time any day 24/7.  Experience the "Harris Advantage" for yourself.